ATB Cares
Can you believe it's already back-to-school season?
How ATB Cares Works
Use the search bar below to find the cause you care about most. Provided our matching offer is in effect, ATB will match 20% of every dollar donated to Alberta-based, non-religious causes through this site. Together, we can make a positive impact for the greater good of our communities.
ATB provides up to $30,000 per month in matching across all eligible causes. Eligible causes may receive up to $5,000 of matching per year (starting April 1). Individual donations qualify for a maximum donation match of $500.
Not sure if our matching dollars are in effect?
Look for a "matching offer" banner on the charity profile page. The estimated match amount on your donation is also calculated prior to processing payment.
Featured project
Ukraine Humanitarian Crisis Appeal / Fonds de secours : Crise humanitaire en Ukraine by CANADIAN RED CROSS / CROIX-ROUGE CANADIENNE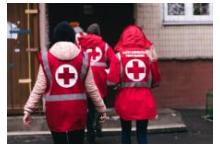 About this website
ATB Cares is an easy-to-use cause-of-choice website that enables Albertans to donate to the charities that are important to them. Once registered with the Canadian Revenue Agency, charities are automatically included on atbcares.com.