We are proud to present our online performance project Isolation Point Virtual Concerts.
Musicians across the globe are facing a stark reality right now. Projects cancelled, incomes decimated, many are struggling financially. I believe that the International Festival of Song and Chamber Music Society can provide a beacon of hope for our local artists. Isolation Point Virtual Concerts was started for local Calgary area musicians where they can still perform and be paid for their online performances by our organization. In this time of intense challenge and difficulty, I see these concerts as an opportunity to provide a helpful way forward through the COVID-19 pandemic.
These performances are incredibly intimate and a stark reminder of this intense and surreal time. We have all been under physical distancing orders several times this past year. We are still unable to present concerts to the public and the only performance opportunities are through virtual events. You can access these special performances through our website, our newsletter, our new Youtube Channel on our website, on Facebook, Instagram and Twitter.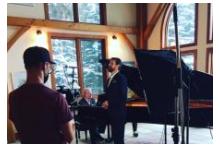 How Donations Work
Click any 'Donate Now' button and then decide your donation amount. You will then be forwarded to your payment processor of choice. Once your donation has been processed it will be sent to your charity of choice.
Need Some Help?