Santa YEG mission is to deliver compassion to people in our community experiencing extraordinary hardship by providing financial assistance and meals during the holiday season. We work with local shelters to mobilize our large volunteer base to make this happen.
To date, we've served over 25,000 meals and giving out over $50,000 in financial assistance to families in need.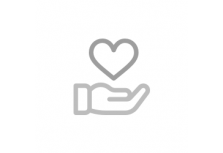 How Donations Work
Click any 'Donate Now' button and then decide your donation amount. You will then be forwarded to your payment processor of choice. Once your donation has been processed it will be sent to your charity of choice.
Need Some Help?