Buhoma, in the beautiful Bwindi Impenetrable Forest, is not only home to the mountain gorillas of Uganda but is also a community steeped in tradition and culture.
Ride 4 a Woman, a locally founded women's empowerment initiative, offers guests a truly authentic East African cultural experience while providing local women with business opportunities.
To assist this vibrant community with their eco-tourism and microenterprise businesses, we intend to provide a replacement generator to ensure sufficient power. Any excess funds will be used to support the microenterprise businesses in the community.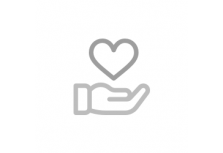 How Donations Work
Click any 'Donate Now' button and then decide your donation amount. You will then be forwarded to your payment processor of choice. Once your donation has been processed it will be sent to your charity of choice.
Need Some Help?