Be one of the first 100 donors to Help Bolivia's second program for children in Villa Ingenio, El Alto and have your name (or the name of a loved one) inscribed on a brick for a donor brick wall poster for the community centre!
Donate $50 (or more) for a brick and in the note field leave the name you wish written on the brick (ex. "John Smith", or "In Memory Of Jane Smith"). Thank you for your support!
Help Bolivia's children's community programs provide nutrition and education support to impoverished Indigenous Aymara children in El Alto, and skills training to women and youth. See our website for more information.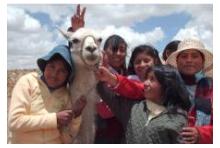 How Donations Work
Click any 'Donate Now' button and then decide your donation amount. You will then be forwarded to your payment processor of choice. Once your donation has been processed it will be sent to your charity of choice.
Need Some Help?