Cause Profile
THE FRIENDS OF THE CANMORE LIBRARY SOCIETY
CANMORE, Alberta
Celebrating it's 30th birthday in 2023, The Friends of Canmore Library Society is a volunteer organization working to support the Canmore Public Library by fundraising for identified needs beyond the Library's budget and by supporting the Canmore Library Endowment Fund held by the Banff Canmore Community Foundation. In addition to used book sales normally organized in April, August and November each year, the Friends host a monthly speakers series for the general public.
The Friends of Canmore Library organization was established in 1993 by a committed group of local library supporters. It's a CRA registered charity which exists to support the Canmore Public Library, normally providing the Library with annual grants in the range of $10,000 - $20,000 for the purchase of items beyond the scope of the Library's regular budget. Priorities include collection development - books, magazines, audio books and DVDs for adults and children - as well as library ... Read More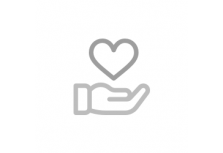 How Donations Work
Click any 'Donate Now' button and then decide your donation amount. You will then be forwarded to your payment processor of choice. Once your donation has been processed it will be sent to your charity of choice.
Need Some Help?