Thanks to the overwhelming generosity of supporters, the Government of Canada match of $30 million has been meet as of March 4, 2022. Your donation will support those impacted by the crisis in Ukraine. Thank you for your generosity.
Money raised will enable the Red Cross and Red Crescent Movement to respond to humanitarian needs generated by almost eight years of conflict, as well as preparedness and response efforts due to heightened tensions in Ukraine. The support could include preparedness, immediate and ongoing relief efforts, long-term recovery, resiliency, and other critical humanitarian activities as needs arise, both in Ukraine and surrounding countries, including supporting populations displaced.
_____________________________________________________________________________________________
Grâce à l'incroyable générosité de nos donateurs, l'objectif de 30 M $ en dons a été atteint en date du 4 mars 2022, auquel s'ajoutera une somme équivalente versée par le gouvernement du Canada. Votre générosité viendra en aide aux personnes touchées par la crise en Ukraine. Merci infiniment de votre appui.
Les dons au Fonds de secours : Crise humanitaire en Ukraine permettront au Mouvement international de la Croix-Rouge et du Croissant-Rouge de répondre aux besoins humanitaires engendrés par près de huit années de conflit, en plus de contribuer aux efforts de préparation et d'intervention dans le contexte des tensions accrues en Ukraine. Les fonds amassés permettront à la Croix-Rouge de mener des initiatives de préparation et des opérations de secours, d'accompagner les personnes et les collectivités éprouvées dans leur rétablissement à long terme, de renforcer leur résilience et de réaliser d'autres activités humanitaires essentielles en réponse aux besoins émergents en Ukraine et dans les pays voisins, notamment auprès des populations déplacées.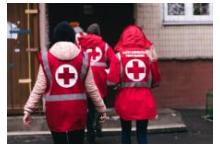 How Donations Work
Click any 'Donate Now' button and then decide your donation amount. You will then be forwarded to your payment processor of choice. Once your donation has been processed it will be sent to your charity of choice.
Need Some Help?